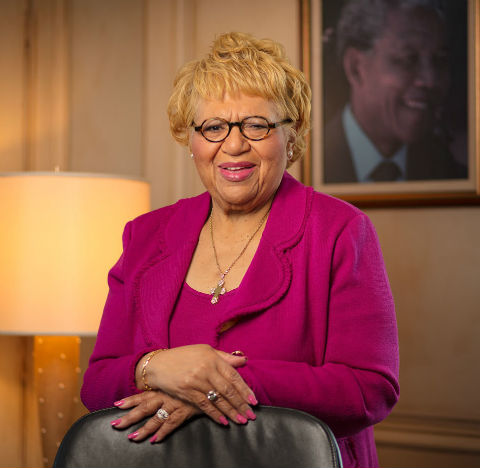 For more than 50 years Carole F. Hoover has built a career that has blended civil rights, support of Northeast Ohio's businesses, civic leadership and philanthropy.
As a student at Tennessee State University, she was at the forefront of the civil rights movement. After graduation, she became a member of the executive leadership team of the Southern Christian Leadership Conference. She served alongside her father, the Rev. Dr. Odie Hoover, Jr., then the pastor of Cleveland's Olivet Institutional Baptist Church.
Ms. Hoover joined the Greater Cleveland Growth Association — now Greater Cleveland Partnership — in 1971 to lead its efforts to support minority-owned businesses. When she rose to the position of president and CEO of the organization in 1994, she became the first African-American woman in the country to lead a major chamber of commerce.
She also has been a part of many of the region's most significant public-private partnerships and other civic efforts. In 1979, she became vice-chair of the city's Operations Improvement Task Force, led by then-Cleveland Mayor George Voinovich, which elevated the city out of bankruptcy. She was part of the team that made the Gateway Sports and Entertainment Complex project and the Rock & Roll Hall of Fame and Museum a reality. She helped to co-found the Greater Cleveland Roundtable, which was absorbed into the Greater Cleveland Partnership in 2004. In 2016 she served on the Cleveland 2016 Host Committee, Inc., responsible for attracting the 2016 Republican National Convention.
As a former executive committee member of The Martin Luther King, Jr. Center for Nonviolent Social Change, and part of the Free South Africa campaign that coordinated Nelson Mandela's first U.S. visit in 1990, Ms. Hoover has been active nationally in civil rights causes. No matter the cause, organization or campaign, she always provides support quietly.
"If you are doing it for the right reasons, you don't need any credit," she says. "I think of the dignity of individuals, and it's all about what you give that can make them feel good, not make them feel like a victim in need of a lifeline."
Ms. Hoover retired from the Greater Cleveland Growth Association in 2000. Today she manages the real estate and financial investment firm HooverMilstein, a partnership she struck in 1999 with New York financier and philanthropist Howard P. Milstein. She serves on the board of directors of Cleveland Clinic and remains involved in Cleveland's business, civic and education communities.
Close Bio
Sam Miller worked his way through Adelbert College (Case Western Reserve University) with the help of scholarships, then earned an MBA from Harvard Business School. He served in the U.S. Navy from 1942 to 1946. Shortly after marrying Ruth Ratner, daughter of Leonard Ratner, Mr. Miller joined Forest City Materials, the Ratner family business, in 1947.
Now 96 and co-chairman emeritus of Forest City Realty Trust, Mr. Miller has made generosity a central part of his life and 70-year career as a result of his humble beginnings, the son of poor Eastern Europe immigrants.
Under the leadership of Mr. Miller and Albert Ratner, his brother-in-law, what began as a lumber and supply company has become a publicly-traded multi-billion dollar corporation that owns, develops and manages residential and commercial properties across the country.
Mr. Miller is widely credited with spearheading this move into home construction, and, reflecting on his career in 2007, said that he was most proud of the communities he developed in Brook Park, Parma and Parma Heights in the mid-1950s: "I made them into the fastest-growing cities in the United States for many years."
As it grew, Forest City continued its expansion into real estate development, and today has 32 retail centers, 36 office buildings and 115 apartment buildings in its national portfolio.
For decades, Mr. Miller has been a man at the center of civic and business leadership in Northeast Ohio. He also has been an avid supporter of the Jewish community. He is a former board member and is an honorary lifetime member of the Jewish Community Federation of Cleveland, and served on the board of the Cleveland Jewish Welfare Fund. He also has extended his civic and philanthropic resources to Catholic organizations and the National Conference of Christians and Jews.
"I'm very passionate about anything I do," Mr. Miller told Smart Business magazine in 2003. "My involvement with the Catholic church, my involvement with the state of Israel. I just don't join organizations to get my name on the board. That is worthless, and you do a grave injustice to the organization."
Mr. Miller has been honored with induction into the Cleveland International Hall of Fame and the Northeast Ohio Business Hall of Fame, and with lifetime achievement awards from the Catholic Diocese of Cleveland and the Greater Cleveland Peace Officers Memorial Society. He earned the Founder's Award from the Anti-Defamation League.
The Sam H. and Maria Miller Foundation has made gifts to support causes in the areas of education, the arts, health, children, social services and Jewish and Catholic organizations. Among its major gifts include support to Cleveland Clinic, where the Maria and Sam Miller Professional Excellence Awards have been established.
Close Bio
Albert Ratner wasn't sure college was the right choice for him when he completed his enlistment in the U.S. Army in 1948. Instead, he wanted to head straight into the family business, Forest City Materials, which was founded by his father Leonard Ratner, uncles Charlie and Max and aunt Fannye — four of nine children from a Polish immigrant family — as a lumber and building materials company in the 1920's. The younger Ratner had spent his childhood helping out around the lumberyard, and felt sure that there wasn't anything more he could learn in college.
So to encourage his son to pursue a degree, Mr. Ratner's father identified the forestry program at Michigan State University, where his son could study lumber merchandising. He would later jokingly accuse his father of starting the school, since he had never heard of such a program. His father's urging was successful; Mr. Ratner earned his degree in forestry, entered the family business upon graduation in 1951, and started his 66-year career at Forest City and is presently co-chairman emeritus.
"Over time I have seen that that it wouldn't have mattered what profession or occupation I had chosen, my life wouldn't have been much different," Mr. Ratner reflects today. "Because it wasn't the job I was doing, it was the way I was doing the job. Whatever occupation, we are still partners in communal and family life. We live by our principals and do things that follow our beliefs."
Mr. Ratner's parents were his early role models who set him on a path to business success. Early on, Leonard Ratner gave his son a great deal of responsibility and included him in meetings and business decisions. "He said, I want you to make your mistakes while I'm still alive and can help," Mr. Ratner recalls. "That set my lifestyle of working with other people. The most important thing I can do is help others empower themselves as opposed to being directed as to what they should do."
He spent his career working alongside Sam Miller, his co-chairman emeritus, as Forest City grew from a lumber supply company to a construction company to a home improvement retailer to a real estate development company. Forest City spearheaded the redevelopment of the Halle Building, which it purchased in 1982, and Tower City, which opened in 1990. It became publicly-traded in 1960, a $8.2 billion corporation that develops, owns and manages residential and commercial properties across the country. Its national portfolio now includes 32 retail centers, 36 office buildings and 115 apartment buildings.
In his civic life, Mr. Ratner was a primary architect of Global Cleveland, an initiative launched in 2011 that seeks to attract, welcome and integrate immigrants and refugees into the Cleveland workforce and community. He is a driver of the Center for Population Dynamics. He is also a member of the Group Plan Commission, the entity that envisioned the recent revitalization of downtown public spaces and facilities such as Public Square and the Global Center for Health Innovation. Mr. Ratner has been active in the Cleveland Plan to transform the Cleveland Metropolitan School District, the revitalization of the Gordon Square Arts District, Karamu House and Ohio's Third Frontier Advisory Board. He has also driven Forest City's investments into the Slavic Village Restoration Project. Mr. Ratner is involved with the entire Ratner family in many philanthropies and through the Albert B. and Audrey G. Ratner Family Foundation, which has supported causes in the areas of art, education, health care, poverty, the Jewish community and the general community.
Mr. Ratner's Jewish faith has heavily influenced his approach to leadership. Over the years, he has supported such organizations as the Jewish Federation of Cleveland, the Maltz Museum of Jewish Heritage and the American Jewish Joint Distribution Committee. One philosophy that guides Mr. Ratner is the concept of tikkun olam, which translates into "repairing the world" in Hebrew. "It is a difficult challenge and it is not possible to do but it does not give us the right to desist from trying," he says. "We cannot save the world, but we have to try." Another Jewish tradition says: "If you save one life, it's as if you save the world. None of us by ourselves can save a life but we can by working with the community."
Reflecting on Cleveland's heritage, Mr. Ratner says he's never found another city in country that can match the dedication of its civic, business and philanthropic leaders as he sees in Cleveland. "To me it's a community," he says. "My mother taught my sister and me that there's no limit to what you can get done when you don't care who gets the credit. It's the collectivism that makes a difference."
Relationships are how they built Forest City's successful business, he says, and it's also the key to making a civic and philanthropic community impact. "When someone comes to me with a problem, the way that I resolve it is to turn to my Rolodex and call someone to help," he says. "The truth is, I am my Rolodex."
But any discussion of life success with Mr. Ratner starts with family. "You lead a family life, a community life and a business life," he says his mother taught his sister and him. "Family is the single most important thing because when things are bad in your family, it's very hard to function. If things are good with your family and other people's families, you can have a great community. If you have a great family in a great community, you have a great business." Mr. Ratner was married 26 years to his late wife Faye, and 37 to his current wife, Audrey. With their combined families, they have five children, 14 grandchildren and five great grandchildren.
When his children were young, his daughter Deborah once called him at work in tears that her doll had broken Deborah's fingernail. He set aside what he was doing to take the call, and established a rule that he still follows today — whenever a member of his family calls, he always takes it. It's a rule Deborah Ratner Salzberg and Brian Ratner still adhere to with their own families.
As he gets ready to celebrate his 90th birthday later this year, Ratner still shows up for work at his office in Terminal Tower every day, although, "I have never looked at what I was doing as work. I'm enjoying it too much," he says. "I have a lot of good days in which good things happen, but there are no days when the things I hope to accomplish I accomplish. I have the choice of being unhappy with myself or understanding that's what life is."
"There's a Jewish tradition that you stand on the shoulders of giants. It's what comes before you that allows you to take the next step. Part of life is learning the lessons of the people who came before you and adding what you can."
Close Bio
After earning a master's degree in public administration, education and urban governance from The Ohio State University, Michael White got his first job in the administration of Columbus Mayor Tom Moody. At age 22, he was in charge of creating an urban homesteading program that sold homes for $1 to encourage families to move to and invest in the city. During his tenure, the program sold more than 70 Columbus homes.
After returning to his hometown of Cleveland in 1976, Mr. White started executing his strategy to reach City Hall, beginning with a job as an aide to then-City Council President George Forbes. Mr. White won a seat on City Council the following year, at only 27 years of age, becoming the youngest member of the council's finance committee in the city's history.
After a term representing the 21st district in the Ohio Senate, Mr. White launched his mayoral campaign with meager funds and a skeleton staff. On November 7, 1989, he won, beating Forbes, his former boss.
"I remember looking out at the crowd of Cleveland residents, black and white, and I remember reflecting on how many children were there," says Mr. White of his inauguration day. "I remember how they looked at me as a symbol of what could be. It speaks to the powerful responsibility of being the kind of leader people want to follow."
During his three terms, Mayor White presided over a comeback era for Cleveland, a time of significant downtown development such as the Gateway Sports and Entertainment Complex, the Rock and Roll Hall of Fame and Museum and the Great Lakes Science Center. He secured federal funds for Empowerment Zones on Cleveland's East Side. He created the Mayoral Commission on School Governance to address the crisis in the Cleveland Metropolitan School District, which led to the appointment of a CEO to oversee its renewal. He spearheaded the project to expand Cleveland Hopkins International Airport. He helped the city to preserve the Cleveland Browns intellectual property when the team left in 1995, restoring the brand with an expansion team in 1999.
When his final term ended in 2001, Mayor White retired from public service. He and his wife of 20 years, JoAnn, live in Newcomerstown, where they operate Seven Pines Alpaca Farm, Yellow Butterfly Winery and a foundation that rescues horses and rehabilitates them for adoption.
Mayor White still spends time in Cleveland every week as program director for the Neighborhood Leadership Development Program, which is part of the Jack, Joseph and Morton Mandel Foundation.
Close Bio